February Brings Heartwarming Fans!
We just celebrated the Valentine's Weekend and now it's President's Day in the USA. For me, seeing all the heartwarming fans enjoying my songs makes me feel on top of the world! Thank you.
Welcome to fans from as near as New York, Ohio and Virginia and as far as Korea and Taiwan. I've added two new countries, Taiwan and Belize, to my fan club - south and far East are enjoying my tunes.
Please keep liking, loving and sharing my music with family and friends. Thank you.
Listen to my new song, Cunning, Baffling, Powerful - it's made many new fans since it's release at the end of 2014.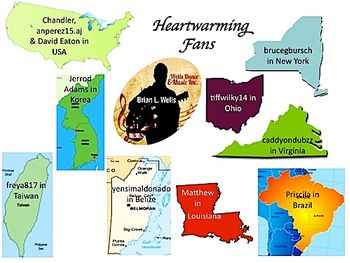 Special Thanks going to my new fans:
caddyondubzz from Virginia for "Everything's Gonna Be Alright" 
Matthew from Louisiana, freya817 from Taiwan, Chandler from USA for "If I Could Die a Hero"
yensimaldonado from Belize City, tiffwilky14 from Ohio, brucegbursch from New York for "My Best Friend"
anperez15.aj from USA for "This Is Our Great Country"
Priscila from Brazil for "Cunning, Baffling, Powerful"
David Eaton from USA for "Couch Talkin"
Jerrod Adams from Seoul, Korea for "GPS Directions to My Heart"
This time "If I Could Die a Hero,"and "My Best Friend" ranked as fan favorites. With February being the heart month, it's no surprise that those most dear to us and those who may not be with us would come to mind.
I hope that my songs bring you comfort as you wait for their return. Thanks for listening and sharing my music.
You can listen to my music any time on Jango Internet Radio, Google Play or SoundCloud.  The songs are also available on CDbaby, Amazon, iTunes and Rhapsody.