Hardy Harvest of Fans - It Keeps Getting Better!
August weather is heating up and so is my fan list. It's great to see all the places that my songs have reached. 
I have fans from all around the world and this time I welcomed fans from new locations as near as New Hampshire and as far away as Venezuela, Peru, Finland and Egypt. It makes me happy to know that my music is reaching all of you.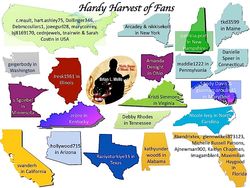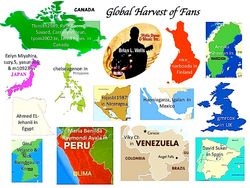 Special Thanks going to my new fans:
geigerbody from Washington, Amanda Denight from Ohio, nikkisekoll from New York, dollinger346 from USA, Debmccullars1 from USA, ajnewman900 from Florida, rojasbt1987 from Nicaragua, maddie1222 from Pennsylvania, tkd3599 from Maine, hanniagarza from Mexico for "Everything's Gonna Be Alright" 
hart.ashley75 from USA, hollywood715 from Arizona, svanderh from California, Viky Ch from Venezuela, Eelyn Miyahira from Japan, zebro from Kentucky, glennwilkes873123 from Florida, Ahmed EL-Jehanii from Egypt for "My Brothers and Me" 
gmrcox from United Kingdom for "If I Could Die a Hero" 
Sandy Davis from Maryland, Annika Sheeran from Sweden, David Suker from Spain, Pasc Thornton Savard from Canada, chelseagenon from Philippines for "Brother How I Miss You" 
Carrielynn Jean from Canada, arcadey from New York, kathyunderwood6 from Alabama for "My Best Friend" 
m10923 from Japan, patricia.pratt from New Hampshire for "Hold Me Close While We Dance" 
tlsmith2989 from Canada, c.mault from USA, Nick Riendeau from Korea, jresk1961 from Illinois, s.sgoebel from Minnesota, Michelle Russell Parsons from Florida for "This Is Our Great Country" 
Gina Velasco from Korea, suzy.5 from Japan, Maximilian Haygood from Florida, joeegurl28 from USA, maryconrey from USA, yasuna08 from Japan, Kristi Simmons from Virginia for "I'll Follow His Light" 
rkendrixtex from Florida, giannamaroulis45 from Maryland for "Couch Talkin" 
bj8169170 from USA, lgalan from Mexico, Maria Benilda Raymondi Ayala from Peru, raziyaturkiye33 from Texas, tyom2002.te from Canada, cednjewels from USA, tnairwin from USA, Kaitlyn Chapman from Florida, Imagambler4 from Florida for "GPS Directions to My Heart"  
Nicole Ivey from North Carolina, nice_narboada from Finland, Jared Jones from Canada, Danielle Speer from Connecticut, Debby Rhodes from Tennessee, Sarah Costin from USA for "Cunning, Baffling, Powerful" 
"Everything's Gonna Be Alright" was the top fan favorite, with "GPS Directions to My Heart" closely following and "My Brothers and Me" filling in third place. Late summer finds us longing for contentment, second changes and the good ole days of family fun. Whatever brought you into the fan, I'm glad you are here now. 
Remember, that you can listen to my music any time on Jango Internet Radio, Google Play or SoundCloud.  The songs are also available on CDbaby, Amazon, iTunes and Rhapsody. My music can also be found on Spotify. Check out your favorites.