Bundled Up in Fans & Staying Warm!
Here in northern US, it's been a really cold outside. It sure helps being bundled up with so many new fans this February. You keep me going! Thanks so much.
Welcome to fans right here in Delaware to as far as Japan and Ukraine. I've added three new countries, Argentina, Kyrgyzstan and Pakistan to my fan club now. My songs keep reaching out to fans around the world. It is great to hear from every one of you.
Please keep liking, loving and sharing my music with family and friends. Thank you.
Listen to my new song, Cunning, Baffling, Powerful - it's more new fans have been added in 2015.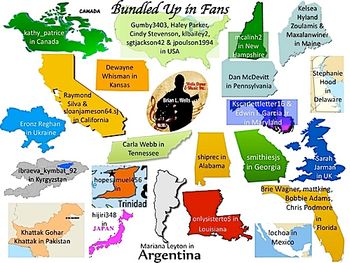 Special Thanks going to my new fans:
Stephanie Hood from Delaware, Brie Wagner from Florida for "Everything's Gonna Be Alright" 
hopesamuel456 from Trinidad for "My Brothers and Me"
onlysisterto5 from Louisiana, Raymond Silva from California for "If I Could Die a Hero"
kscarlettletter16 from Maryland, maxalanwiner from Maine for "Brother How I Miss You"
lochoa from Mexico, sloanjameson64.sj from California, hijiri348 from Japan, kathy_patrice from Canada, Sarah Jarman from United Kingdom, gumby3403 from USA for "My Best Friend"
Haley Parker from USA, Kelsea Hyland Zoulamis from  Maine, Cindy Stevenson from USA, Mariana Leyton from Argentina for "Hold Me Close While We Dance"
mcalinh2 from New Hampshire, sgtjackson42 from USA, klbailey2 from USA for "This Is Our Great Country"
Edwin l. Garcia jr from Maryland, Khattak Gohar Khattak from Pakistan, Bobbie Adams from Florida for "I'll Follow His Light"
mattking from Florida, Dan McDevitt from Pennsylvania, Chris Podmore from Florida for "Couch Talkin"
shiprec from Alabama, Eronz Reghan from Ukraine, ibraeva_kymbat_92 from Kyrgyzstan for "GPS Directions to My Heart"
smithiesjs from Georgia, Dewayne Whisman from Kansas, Carla Webb from Tennessee, jpoulson1994 from USA for "Cunning, Baffling, Powerful"
This time "My Best Friend" stayed a fan favorite, and "Hold Me Close While We Dance" and my newest release "Cunning, Baffling, Powerful" also did well with fans. February is certainly a time when we focus on keeping our loved ones close. With love and faith, we can make steady progress on fighting addictions.
Every day we make a new beginning. Thanks for listening and sharing my music.
You can listen to my music any time on Jango Internet Radio, Google Play or SoundCloud.  The songs are also available on CDbaby, Amazon, iTunes and Rhapsody. Most recently, my music has been added to Spotify too. Check out your favorites.