US Fans are in Bloom & Global Fans are Flourishing!
Spring is finally on the way in the US. Fans are blooming all around the country and global fans are flourishing too. I've added fans from two new countries, Croatia and Sweden. Welcome to everyone.
Thank you for sharing my musical journey. Your support means so much to me.  Please keep liking, loving and sharing my music with family, friends and everyone. 

Check out my new song, Cunning, Baffling, Powerful - it's reaching the world and making new fans.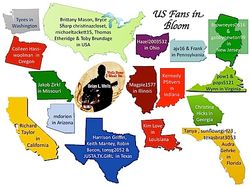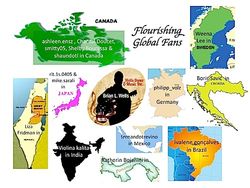 Special Thanks going to my new fans:
ajv16 from Pennsylvania, Tanya from Florida for "Everything's Gonna Be Alright" 
Harrison Griffin from Texas, Christina Hicks from Georgia for "My Brothers and Me"
Frank from Pennsylvania, browneyes0616 from New Jersey, Brittany Mason from USA, Colleen Hass-woolman from Oregon, christinazcloset from USA, Richard Taylor from California, ashleen.ensz from Canada, Kim Love from Louisiana, Keith Mantey from Texas for "If I Could Die a Hero"
sunflowrgirl23 from Florida, rlt.1s.0405 from Japan, Katherin Bojanini from Panama, Robin Bacon from Texas, mdorion from Arizona for "Brother How I Miss You"
tonyg2052 from Texas, fernandotrevino from Mexico, texasbrat3053 from Florida for "My Best Friend"
Bryce Sharp from USA, gabbynewton99 from New Jersey for "Hold Me Close While We Dance"
Audra Gehrke from Florida, KennedyPStivers from Indiana, JUSTA.TX.GIRL from Texas for "This Is Our Great Country"
Liza Fridman from Israel, michaeltackett15 from USA, Chantal Doucet from Canada, Thomas Etheridge from USA for "I'll Follow His Light"
Jakob Zirkle from Missouri, Violina kalita from India, pow1 from Virginia, smitty05 from Canada, Shelby Bourassa from Canada for "Couch Talkin"
Toby Brundage from USA, philipp_volz from Germany, ivalene gonçalves from Brazil, pops5121 from Virginia, magpie1577 from Illinois, Tyees from Washington, shaundotl from Canada for "GPS Directions to My Heart"
mike.sarali from Japan, Weena Lee from Sweden, hazel2003532 from Ohio, Boris Savić from Croatia for "Cunning, Baffling, Powerful"
This time "If I Could Die a Hero" was the fan favorite and "GPS Directions to My Heart" also did well with fans. It seems that making those we love see our best, most heroic selves and fixing our errors in life are a universal feelings.
Every day we make a new beginning. Thanks for listening and sharing my music.
You can listen to my music any time on Jango Internet Radio, Google Play or SoundCloud.  The songs are also available on CDbaby, Amazon, iTunes and Rhapsody. Most recently, my music has been added to Spotify too. Check out your favorites.