A Blizzard of Fans Came Down in January!
It's winter here in the USA and up north we are bracing for some snowstorms.  This January has brought me a storm of Country music fans, so I'm as excited as children playing in the snow! Thank you all so much.
Welcome to fans from as near as New Jersey and as far as the Philippines. How amazing it is when I look at everywhere my music has been enjoyed.   
Please commit to that New Year's resolution to keep listening and sharing my music with all your friends. Thank you.
Listen to my new song, Cunning, Baffling, Powerful - it's made many new fans since it's release at the end of 2014.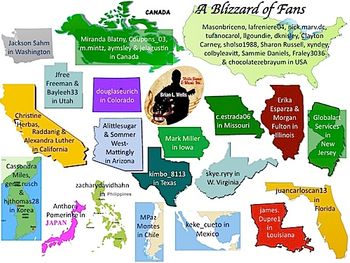 Special Thanks going to my new fans:
globalartservices from New Jersey, keke_cueto from Mexico, masonbriceno from USA, lafreniere04 from USA for "Everything's Gonna Be Alright" 
Anthony Pomerinke from Japan, james.dupre1 from Louisiana for "My Brothers and Me"
Cassondra Miles from Korea, Miranda Blatny from Canada, nick.marv.dc from USA, douglaseurich from Colorado, tufanocarol from USA, Alexandra Luther from California, Bayleeh33 from Utah, chocolatezebrayum from USA, Coupons_03 from Canada for "If I Could Die a Hero"
Jackson Sahm from Washington, Jfree Freeman from Utah, llgoundie from USA, zacharydavidhahn from Philippines, dknisley from USA, m.mintz from Canada, Clayton Carney from USA, c.estrada06 from Missourifor "Brother How I Miss You"
Mark Miller from Iowa for "My Best Friend"
skye.ryry from West Virginia, gene.rusch from Korea, sholso1988 from USA, Erika Esparza from Illinois, Christine Herbas from California for "Hold Me Close While We Dance"
kimbo_8113 from Texas for "This Is Our Great Country"
Sharon Russell from USA, hjthomas28 from Korea, Morgan Fulton from Illinois, juancarloscan13 from Florida for "I'll Follow His Light"
xyndey from USA for "Couch Talkin"
alittlesugar from Arizona, colbyleavitt from USA, aymsley from Canada, Sommer West- Mattingly from Arizona, raddanig from California, Sammie Daniels from USA for "GPS Directions to My Heart"
jelagustin from Canada, MPaz Montes from Chili, Fraley3036 from USA for "Cunning, Baffling, Powerful"
This time "If I Could Die a Hero," "Brother How I Miss You," and "GPS Directions to by Heart" ranked as fan favorites. Now that the holidays are over, it seems we are thinking about all our heroes from the military, first-responders, teachers, parents and family. We are also believing that people can change for the better, given a second chance.

I hope that my songs lead you to have a better understanding of all those emotions that make up our lives. Thanks for listening and sharing my music.
You can listen to my music any time on Jango Internet Radio, Google Play or SoundCloud.  The songs are also available on CDbaby, Amazon, iTunes and Rhapsody.