In the spirit of the holidays, I have to say
that "Fans Make the Best Gifts!"
Wow! Seeing the long list of names is an early present from Santa for me. I'm feeling truly blessed this holiday season. So whether you are as near as Maryland or as away like my new fans in the United Kingdom or Ukraine, I'm thrilled to have you as a fan.
Thank you for listening and enjoying my music. You are the best gift I could get. Please keep sharing the gift of my music with everyone. 
You can hear my new song, Cunning, Baffling, Powerful too. I appreciate the early fans for this new release.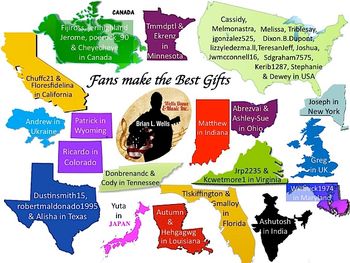 Special Thanks going to my new fans:
Gmalloy from Florida, Donbrenandc from Tennessee, Autumn from Louisiana, Fijiross from Canada,jerihighland from Canada, Hehgagwgfrom Louisianafor "Everything's Gonna Be Alright" 
Cassidy from USA, Ricardo from Colorado, Patrick from Wyoming for "My Brothers and Me"
Yuta from Japan, Jerome from Canada, kcwetmore1 from Virginia,willbuck1974 from Maryland,Alisha from Texas, Melmonastra from USA,Chuffc21 from California for "If I Could Die a Hero"
Andrew from the Ukraine, Cody from Tennessee, jgonzalez525 from USA,lizzyledezma.ll from USA,Jwmcconnell16 from USA for "Brother How I Miss You"
Melissa from USA, Dustinsmith15 from Texas, tlskiffington from Florida, Triblesay from USA, TeresanJeff from USAfor "My Best Friend"
Dixon.B.Dupont from USA, robertmaldonado1995 from Texas,poerock_90 from Canada,Joshua from USA, Sdgraham7575 from USAfor "Hold Me Close While We Dance"
Tmmdptl from Minnesota,Greg from United Kingdom, Jrp2235 from Virginia,Floresfidelina from California,Abrezvai from Ohio, Matthew from Indiana for "This Is Our Great Country"
Cheyecheye from Canada, Kerib1287 from USA for "I'll Follow His Light"
Stephanie from USA, Joseph from New York, Dewey from USA for "Cunning, Baffling, Powerful"
Ashutosh from India, Ekrenz from Minnesota for "Couch Talkin"
Ashley-Sue from Ohio for "GPS Directions to My Heart"
This time "If I Could Die a Hero, This is Our Great Country and Everything's Gonna Be Alright" were the fan favorites. It makes me think that as the holidays approach, we remember our homes, heros and hopes most often. 

Wishing you holidays filled with health, happiness and homecomings - especially for all our soldiers.
You can listen to my music any time on Jango Internet Radio, Google Play or SoundCloud.  The songs are also available on CDbaby, Amazon, iTunes and Rhapsody.