Giving Thanks for A Hearty Bounty of Fans!
In the USA, we just celebrated the Thanksgiving Holiday with family and friends.  It's a great time for me to share my thanks with all the fans that have made this musical journey special. 
My music has attracted fans from as near as Virginia and as far away as Belgium. Each of you brings me closer to reaching the entire world with my songs, so please keep passing the music on!
I feel very blessed to be able to do what I love and see that it is making a difference in people's lives. Thank you for sharing the journey. You make me believe I'm on the right road.
You can enjoy the video of GPS Directions to My Heart on YouTube at http://goo.gl/QrlCiX and subscribe to the BrianLWellsMusic channel.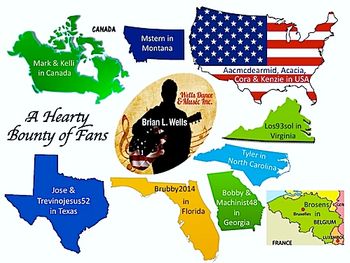 Special Thanks going to my new fans:
Los93sol from Virginia, Tyler from North Carolina for "Everything's Gonna Be Alright" 
Brubby2014 from Florida, Mstern from Montana for "My Brothers and Me"
Acacia from USA for "If I Could Die a Hero"
Cora from USA, Mark from Canada, Kelli from Canada for "Brother How I Miss You"
Jose from Texas for "My Best Friend"
Trevinojesus52 from Texas,Kenzie from USA, Bobby from Georgia for "GPS Directions to My Heart"
Brosens from Belgium for "Hold Me Close While We Dance"
Aacmcdearmid from USA, Machinist48 from Georgia for "This Is Our Great Country"
This time "Brother How I Miss You" and my newest song "GPS Directions to My Heart" were the fan favorites. I'd like to believe that as the holiday season begins, we are remembering fondly those we love that have left our lives - either through death or decisions. There seems to be a lot of hope that we will be reunited someday with them and again enjoy the love they brought to our lives.  
You can listen to my music any time on Jango Internet Radio, Google Play or SoundCloud.  The songs are also available on CDbaby, Amazon, iTunes and Rhapsody.