Getting some National Attention from Fans!
Thank you to all my new fans, especially those far away like Julie in Japan and Cheikh in Senegal!
Still working on getting fans in Antarctica, every state and country around the world, so please keep passing the music on!
I've added some new live music videos on BrianLWellsMusic on my YouTube channel.
Thank you for listening, sending your comments and sharing my music with family and friends. Makes my heart sing!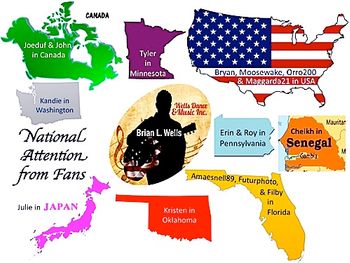 Special Thanks going to my new fans:
Amaesnell89 from Florida, Filby from Florida, Erin from Pennsylvania for "Everything's Gonna Be Alright"
Futurphoto from Florida, Bryan from USA for "My Brothers and Me"
Tyler from Minnesota, Joeduf from Canada, Moosewake from USA for "If I Could Die a Hero"
Cheikh from Senegal, Kandie from Washington for "Couch Talkin"
Roy from Pennsylvania, Orro200 from USA for "Brother How I Miss You"
Maggarda21 from USA, John from Canada, Kristen from Oklahoma, Julie from Japan for "My Best Friend"
This time "My Best Friend" was the fan favorite and there was a tie between "Everything's Gonna Be Alright" and "If I Could Die a Hero." It seems that fans are thinking a lot about children and family as a source of strength and encouragement. 

You can listen to my music any time on Jango Internet Radio, Google Play or SoundCloud.  The songs are also available on CDbaby, Amazon, iTunes and Rhapsody.