That Place I Call My Home - Video of Live Concert for
Wilmo Wednesdays @ World Cafe Live at The Queen
I'm sharing a video of my new release song "That Place I Call My Home" that I played live with excellent guitarist, Shaun Dougherty on December 16th at The Queen in Wilmington DE.  This was the first audience to hear me perform the new song live! Thanks for the applause! 
This song was one I dedicated to service men and women who serve our country all over the world and to their families who often have to celebrate the holidays miles apart. Thank you for your sacrifice. 
Let's all honor them this holiday season and say a prayer for their safe return.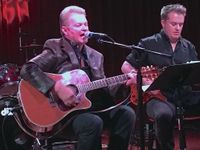 Find the video of That Place I Call My Home on YouTube at https://youtu.be/oErpXxclHpA 
Get your copy today on CDBaby: http://www.cdbaby.com/cd/brianlwells8 and share it will anyone who serves this country or support loved ones who doing their duty today. Bless them all for their service.