Springing Up Worldwide Fans   
I've been enjoying the change in weather and sharing my music with some of my new dance music fans who often request my songs to dance with their friends. All of this brings me joy! 
I welcomed fans from around the world and a new country, Bahrain added the map of my listeners. It is so amazing to know that my music has brought comfort and smiles to people in so many states and countries. Thank you for listening and sharing my music.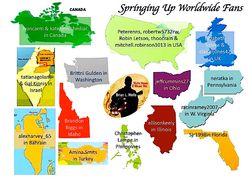 Special Thanks going to my new fans:
Brandon Biggs from Idaho, ivancarm from Canada, Christopher Lampe from Philippines for "Everything's Gonna Be Alright"
claireljones42 from United Kingdom, alexharvey_65 from Bahrain for "My Brothers and Me"

Amina Smits from Turkey, thoocrain from USA, jeffcummins27 from Ohio, peterenns from USA for "Brother How I Miss You"
 
Brittni Gulden from Washington, robertw5732rw fromUSAfor "My Best Friend"

Elizabeth Saleka from United Kingdom, sjr1998 from Florida, neratka from Pennsylvania for "Hold Me Close While We Dance"
Robin Letson from USA, for "This Is Our Great Country"

ellisonkeely from Illinois, tatianagolani from Israelfor "I'll Follow His Light"
Gal Kipnis from Israel, racinramey2007 from West Virginia, katelynn.shediac from Canada for "Couch Talkin"
mitchell.robinson1013 from USA, for "Cunning, Baffling, Powerful"
"Brother How I Miss You" was a fan favorite, followed closely by "Everything's Gonna Be Alright," "Hold Me Close While We Dance" and "Couch Talkin.'" These songs remind me that everyone needs comfort, tenderness and romance in their daily lives. I'm happy to know that my songs can be one way to get there.  
Remember, that you can listen to my music any time on Jango Internet Radio, Google Play or SoundCloud.  The songs are also available on CDbaby, Amazon, iTunes and Rhapsody. My music can also be found on Spotify. Check out your favorites and thank you for sharing them.