Southern-Central Fan Rule!
Thanks to all my internet fans everywhere and for all the wonderful fans who came to see me play live at the Grand last Wednesday. 
It was wonderful to hear the applause and see you dancing too!
My songs made fans as near as Delaware and as far away as Korea.
I hope you'll play my music wherever you go. Please keep sharing my songs!

It brings me joy to know that my songs are inspiring you.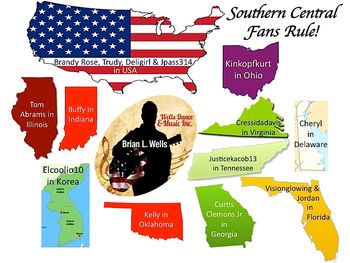 Special Thanks going to my new fans:
Brandy Rose from the USA, Trudy from USA, Deligirl from USA for "GPS Directions to My Heart"
Justicekacob13 from Tennessee, Buffy from Indiana for "Brother How I Miss You"
Cheryl from Delaware for "This Is Our Great Country"
Cressidadavis from Virginia, Kinkopfkurt from Ohio for "My Best Friend"
Kelly from Oklahoma, Elcoolio10 from Korea, Visionglowing from Florida for "I'll Follow His Light"
Jordan from Florida, Tom Abrams from Illinois for "Hold Me Close While We Dance"
Jpass314 from USA, Curtis Clemons Jr from Georgia for "If I Could Die a Hero"
This time "I'll Follow His Light" and my latest release and Song of the Year Runner Up, "GPS Directions to My Heart" were the fan favorites! I guess we need a God and people who believe in second chances! 

You can listen to my music any time on Jango Internet Radio, Google Play or SoundCloud.  The songs are also available on CDbaby, Amazon, iTunes and Rhapsody.