Enjoying Nearby Far-Reaching Fabulous Fans 
It's always fabulous to see new fans enjoying my music. My songs are connecting people as near as USA and Canada and far-reaching as India.
Whether it's a spark of romance or reassurance that life will be better, it great to see that our experiences can be so similar. Thank you for becoming fans of my music.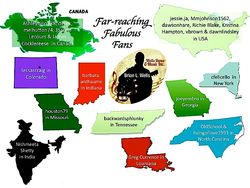 Special Thanks going to my new fans: 

Nishmeeta Shetty from India, cfelicello from Port Jervis, NY, Greg Currence from Farmerville, LA, jessie.ja from USA for "Everything's Gonna Be Alright"

James Cocklereese from Ottawa, Canada, ashleylynn538 from Ottawa, Canada for "My Brothers and Me"

lessarcraig from Walsenburg, CO for "If I Could Die a Hero"


OldSchool from Eden, NC, livingoflove1993 from Spring Lake, NC for "Brother How I Miss You"

backwardsphlunky from Memphis, TN, derek from Canada, Mmjohnson1562 from USA, houston79 from Springfield, MO for "Hold Me Close While We Dance"

barbara.anthaume from IN, joeyembro from Macon, GA, melhutton74 from Canada for "This Is Our Great Country"


dawsonhare from USA, Richie Blake from USA for "I'll Follow His Light"

Kristina Hampton from USA for "Couch Talkin"


Joanne Lecours from Ottawa, Canada for "GPS Directions to My Heart"

vbrown from USA, dawnlindsley from USA for "Cunning, Baffling, Powerful"
The songs that were the current fan favorites were "Everything is Gonna Be Alright" and "Hold Me Close While We Dance."  It looks like we all seek reassurance that we can get through the tough days in life. Life also gets better when you have someone special to hold onto. It's all about romance and reassurance.

Remember, that you can listen to my music any time on Jango Internet Radio, Google Play or SoundCloud.  The songs are also available on CDbaby, Amazon, iTunes and Rhapsody. My music can also be found on Spotify. Check out your favorites and thank you for sharing them.