Memorable US and Global Fans  
In the US today we remember and honor those who served our country and fought for the freedom we enjoy. Thanks to these men and women heroes, I can freely follow my dreams and create songs like "This Is Our Great Country," and share my music worldwide. Thanks to all of you who serve, the families that sacrifice time with loved ones and everyone who shows their respect today and always. 
I welcomed fans from around the world and added two new countries, Ecuador and Italy to the map of my listeners. Music is an especially nice way to connect with people of all nations, don't you think so too? Thank you for listening and sharing my music.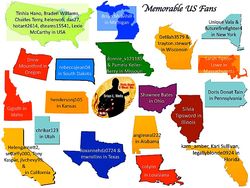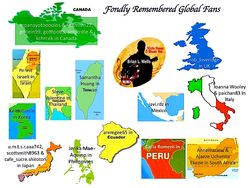 Special Thanks going to my new fans:
Keith Garrie from Korea, Sarah Tipton-Lowe from MA, aremgee65 from Ecuador, Steve Valentine from Thailand, rebeccajean04 from SD, Drew Mountford from OR for "My Brothers and Me"

mpanayotopoulos from Canada, roxannehdz0724 from TX, Unique Vala from NY, Brian Mulvihill from MI, karn_amber from Florida, futurefirefighter4 from New York, Tinhla Hano from USA for "If I Could Die a Hero"
Kari Sullivan from FL, Carla Romero from Peru, gjgsdh from ID, Doris Donat Tain from PA, Samantha Huang from Taiwan, Silvia Tipsword from IL, helengarnett2 from CA, smurffy000 from CA, legallyblonde0924 from Florida, Shawnee Bates from OH for "Brother How I Miss You"
Jerika Mae Aquino from Philippines, javi.rdz from Mexico, mwrollins from TX, Braden Williams from USA, rob_loveridge from United Kingdom for "My Best Friend"
Tony Kaspar from CA, hendersonj105 from KS, Joanna Wooley from Italy, lisamnm22 from Canada, u.m.t.s.r.aaa742 from Japan, Charles Terry from USA, delilah3579 from WI for "Hold Me Close While We Dance"
grklein99 from Canada, gottipotts from Canada, helenvo6 from USA, das27 from USA, Pninit Israeli from Israel, jlvchevy99 from CA, donnie_v121185 from MO, cd12moen from MN, annemariew from South Africa, hotant2614 from USA, dteams15541 from USA for "This Is Our Great Country"

colynn from LA, Ajaeze Uchenna Ekezie from South Africa, scottsmith8963 from Japanfor "I'll Follow His Light"
trayton.stewart from WI, paichan83 from Italy, chrikar123 from Utah for "Couch Talkin"
smpostle from Canada, Lexie McCarthy from USA, kchrcek from Canada, angieseal222 from AL, cafe_sucre.shirotori from Japanfor "GPS Directions to My Heart"
Pamela Keller-Berry from MO for "Cunning, Baffling, Powerful"
In honor of Memorial Day, my fans chose "This Is Our Great Country" as their top favorite, followed closely by "Brother How I Miss You."  I love it when my songs can capture the emotions we all share - love of country, family and heroes. Thank you for making these songs your favorites.

Remember, that you can listen to my music any time on Jango Internet Radio, Google Play or SoundCloud.  The songs are also available on CDbaby, Amazon, iTunes and Rhapsody. My music can also be found on Spotify. Check out your favorites and thank you for sharing them.