Fans Rounding the Globe  
Everyone around the world is enjoying the Summer Olympics in Rio. We may each have our own favorite sports or athletes, but we come together to watch and cheer.
Just like the sports that unite us, music can bring people together in a common bond. It makes me happy to see that my songs are reaching fans round the globe. I'm glad that my lyrics and music have special meaning to people I haven't even met. Thank you for listening and sharing my music.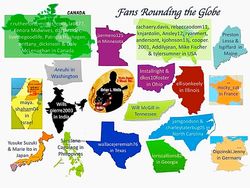 Special Thanks going to my new fans:
jamgoodson from Charlotte, NC, zachaery.davis from USA, jzermeno125 from Saint Paul, MNfor "Everything's Gonna Be Alright"

Yusuke Suzuki from Tokyo, Japan, r.rutherford from Victoria, Canada, rebeccaodom11 from USA, monts_cool from Brampton, Canada, knjantolin from USA, Preston Lessa from Sanford, ME, la1877 from Chilliwack, Canadafor "My Brothers and Me"

Ansley12 fromUSA, Kenora Midwives from Canada, ryanmert fromUSA, darthraider from Canada, SaryJane Cagulang from Cebu, Philippines, livethegoodlife from Leamington, Canada, Marie Ito from Tokyo, Japanfor "If I Could Die a Hero"

willspierre2003 from Kolkata, India, charleytaterbug05 from Raleigh, NC, micky_cat from France, andersont from USA for "Brother How I Miss You"

Patricia Hushagen from Edmonton, Canadafor "My Best Friend"
loriscallions82 from White, GAfor "Hold Me Close While We Dance"

dkos10foster from Waterloo, IL, kjohnson13j from USA, cooper.2001 from USA for "This Is Our Great Country"

Will McGill from Brentwood, TN, wallacejeremiah76 from Andrews, TX, brittany_dickinson from Canada, Addilyjean from USA for "I'll Follow His Light"

areuhi from Seattle, WA for "Couch Talkin"

lsgiffard from Frankfort, ME, installright from Toledo, OH, Dipzinski.Jenny from Cham, Germany, maya.shaham04 from Israel, Mike Fischer fromUSA, tylersumner from USA, Dale McLenaghan from Carleton Place, Canada for "GPS Directions to My Heart"
As summer whines down, three of my songs tied as fan favorites: "My Brothers & Me," "If I Could Die a Hero," and "GPS Directions to My Heart." The end of summer brings out nostalgic memories of growing up and the loves we won, lost and may be won again. Between Independence Day and Labor Day, our memories also turn to honor our heroes. No matter which song is your favorite, I thank you for becoming a fan of my music. 

Remember, that you can listen to my music any time on Jango Internet Radio, Google Play or SoundCloud.  The songs are also available on CDbaby, Amazon, iTunes and Rhapsody. My music can also be found on Spotify. Check out your favorites and thank you for sharing them.