Santa came to town and brought me "Fans and More Fans!!"
My Christmas surprise was so many fans that it took two maps to show them. Thank you so much for listening and liking all my songs this week. I even had new fans from Nebraska and Nigeria plus an Army soldier stationed far away. Each of you make my holiday special. 
I wish you all the best holidays. Please keep sharing the gift of my music with everyone. 
You can hear my new song, Cunning, Baffling, Powerful too. I appreciate the growing list of fans for my new release.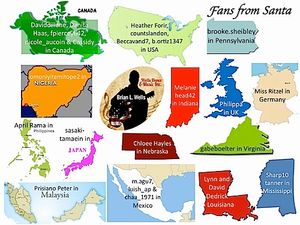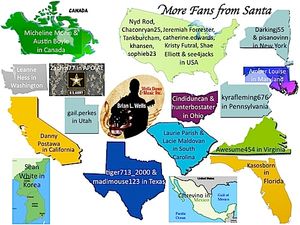 Special Thanks going to my new fans:
Sharp10tanner from Mississippi,daviddillane from Canada, Nyd Rod from USA, Chaconryan25 from USA, Micheline Morin from Canada, zachm77 from APO AE for "Everything's Gonna Be Alright" 
brooke.sheibley from Pennsylvania, darkingj55 from New York, Cindiduncan from Ohio, gail.perkes from Utah, awesume454 from Virginia for "My Brothers and Me"
Heather Forir from USA,Danita Haas from Canada,omoniyitemitope2 from Nigeria,countslandon from USA,Beccavand7 from Canada, Jeremiah Forrester from USA, Austin Boyle from Canada, Sean White from Korea, tankburcham from USA for "If I Could Die a Hero"
LynnandDavid Dedrick from Louisiana,melaniehead42 from Indiana,m.agu7 from Mexico, sasaki-tamae from Japan,Philippa from United Kingdom, Amber Louise from Maryland for "Brother How I Miss You"
b.ortiz1347 from USA,Prisiano Peter from Malaysia,Miss Ritzel from Germany, Laurie Parish from South Carolina,khansen from USA, hunterbostater from Ohio, cftrevino from mexico for "My Best Friend"
fpiercey642 from Canada, catherine.edwards from USA, tiger713_2000 from Texas for "This Is Our Great Country"
luish_ap from Mexico,nicole_aucoin from Canada,chaa_1971 from Mexico, sophieb23 from USA, kasosborn from Florida for "I'll Follow His Light"
April Rama from Phillipines,gabeboelter from Virginia,Chloee Hayles from Nebraska, pisanovinn from New York, Danny Postawa from California, Leanne Hess from Washington for "Couch Talkin"
Cassidy from Canada, Kristy Futral from USA, madimouse123 from Texas, kyrafleming676 from Pennsylvania for "GPS Directions to My Heart"
Lacie Maldovan from South Carolina, Shae Elliott from USA, see4jacks from USA for "Cunning, Baffling, Powerful
This time "If I Could Die a Hero, My Best Friend and Brother How I Miss You" were the fan favorites. Looks like heroes everywhere are top of mind this holiday and family members who cannot be us due to separation or death. Someday we'll all be together celebrating. I'm so happy that my songs are bringing you comfort and joy. 

Wishing you holidays filled with health, happiness and homecomings - especially for all our soldiers.
You can listen to my music any time on Jango Internet Radio, Google Play or SoundCloud.  The songs are also available on CDbaby, Amazon, iTunes and Rhapsody.