Ensphered by Fans from three Continents!
Welcome new fans from Serbia and Japan. You are filling up my map of joy!
I hope you'll play and share my music wherever you go.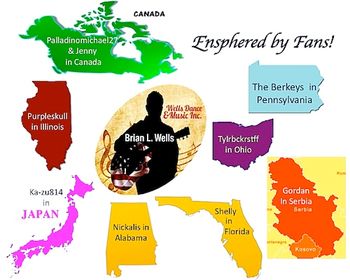 Special Thanks going to my new fans:
Nickalis from Alabamafor "Hold Me Close While We Dance"
Purpleskull from Illinois for "Everything's Gonna Be Alright"
Ka-zu814 from Japan, Jenny for Canada for "Couch Talkin"
Shelly from Florida, Gordan from Serbia for "I'll Follow His Light"
Tylrbckrstff from Ohio, The Berkeys from Pennsylvania for "This Is Our Great Country"
Palladinomichael27 from Canada for "My Brothers and Me"
This time "Couch Talkin', I'll Follow His Light and This is Our Great Country" shared the limelight as the favorites! So it seems we're seeking playful romance, inspiration and love of homeland too.

You can listen to my music any time on Jango Internet Radio, Google Play or SoundCloud.  The songs are also available on CDbaby, Amazon, iTunes and Rhapsody.