My Songs Reaching Cross-Continental Fans 
Check out the fan map to see how far my songs have reached fans! Thanks to internet radio, people everywhere can listen in. This time I found new fans on THREE continents!
I appreciate everyone who has taken the time to like my songs and wish me well. New countries, Ghana and Sudan have listeners who became fans. It's fun to see where you all are!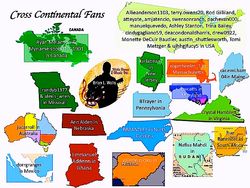 Special Thanks going to my new fans: 

jucarroll from Sturt, Australia, allieanderson1103 from USA for "Everything's Gonna Be Alright"

terry.owens20 from USA, Rod Gilliland from USA, atteyate from USA, amjatencio from USA, dorrgranger from Mexico for "My Brothers and Me"

swensonranch from USA, Crystal Hamblett from Roanoke, VA, pachevan000 from just USA, BBRANTLEY from Southern Pines, NC, Ann Alden from Columbus, NE for "If I Could Die a Hero"

manuelquevedo from USA, randyb1377 from Springfield, MO, Ashley Stanton from USA for "Brother How I Miss You"

Nafisa Mahdi from Sudan, valerie.njoku from Nigeria, Trina Bailey from USA for "My Best Friend"

alexis_wren from Saint Louis, MO, car.emi.ham04 from Kennebunk, ME, BTrayer from Coudersport, PA, roperheeler_1 from Waltham, MA, cindygagliano59 from USA, deacondonaldharris from USA for "Hold Me Close While We Dance"

Mynameisbob01011901 from Manotick, Canada, Emmanuel Addison from Ghana, drew0922 from USA for "This Is Our Great Country"

Rue Bannister from Oudtshoorn, South Africa, Monette DeCuir Baudier from USA, austin_shuttlesworth from USA for "I'll Follow His Light"

karlabean7 from Old Bridge, NJ, bwcatts from Laurel, MDfor "Couch Talkin"

Ryan Melanson from Etobicoke, Canada, Tomi Metzger from USA for "GPS Directions to My Heart"

ujhhgjfucy5 from USA for "Cunning, Baffling, Powerful"
The favorite songs this time around were "Hold Me Close While We Dance," followed closely by "If I Could Die a Hero" and "My Brothers and Me."  These songs remind us that having someone special to hold and to be willing to die for, is the greatest feeling on earth. We also share a bond with our siblings that is special - both in fun and during hard times. Remember to always honor those you love. Thanks for listening!

Remember, that you can listen to my music any time on Jango Internet Radio, Google Play or SoundCloud.  The songs are also available on CDbaby, Amazon, iTunes and Rhapsody. My music can also be found on Spotify. Check out your favorites and thank you for sharing them.