Colorful Fall Fans in the USA and Spanning the Globe
As early Fall comes to the USA, I'm thrilled with the colorful collection of new fans both here and around the globe. I'm grateful for everyone who listens to my songs and becomes a fan.
I have fans from all around the world and this time I welcomed fans from new locations in the Bahamas, Morocco, and Romania. Thank you for tuning in to hear my music.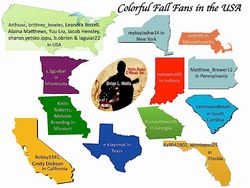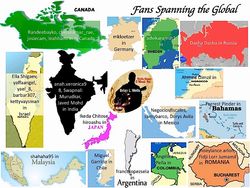 Special Thanks going to my new fans:
randeebayko from Canada, Ella Shigaev from Israel, yaffaangel from Israel, cjenvalencia from California, yael_8 from Israel for "Everything's Gonna Be Alright" 
Matthew_Brewer12 from Pennsylvania, chelseamac_rae from Canada, tammyandheath from South Carolina for "My Brothers and Me"
jhoeylance arlon from Romania, negociosfiscales from Mexico, barbar307 from Israel, Miguel Garrido from Chile, Angélica Peña from Colombia for "If I Could Die a Hero"
mykaylashw14 from New York, arthiusc from USA, shahaha95 from Malaysia, e.klaysmat from Texas, brittney_bowles from USA, Dasha Dasha from Russia for "Brother How I Miss You"
jtccsouthworth from Georgia for "My Best Friend"
Keith Roberts from Missouri, Leandra Bissell from USA for "Hold Me Close While We Dance"
Ikeda Chitose from Japan, Robby3391 from California, josiecam from Canada, Fidji Lorr Jumamil from Romania, samybarco from Mexico, Alaina Matthews from USA, Melanie Breeding from Missouri for "This Is Our Great Country"
Yuu Liu from USA, anah.veronica98 from India, Swapnali Murudkar from India, Jacob Hensley from USA, leahhamrin from Canada for "I'll Follow His Light"
sharon.yetsko.ippu from USA, b.obrien from USA, RaR041902 from Florida, mkloetzer from Germany, Dorys Avila from Mexico, Javed Mohd from India, francolopezsela from Argentina, hiroashu from Japan for "Couch Talkin"
kettyvaysman from Israel, Cindy Dickson from California, AHMED OIMZIL from Morocco, winniepoo25 from Florida, smjh95 from Massachusetts for "GPS Directions to My Heart" 
laguiar22 from USA, Forrest Pinder from Bahamas, advikarajesh1 from Sweden, natewest66 from Indiana for "Cunning, Baffling, Powerful"
"Couch Talkin'" was the top fan favorite this time, with "This is Our Great Country" closely following and "Brother How I Miss You" filling in third place. We're showing our playful, patriotic and sentimental side. I'm glad to know that my songs are bringing you happiness, honor and hopefulness. 
Remember, that you can listen to my music any time on Jango Internet Radio, Google Play or SoundCloud.  The songs are also available on CDbaby, Amazon, iTunes and Rhapsody. My music can also be found on Spotify. Check out your favorites.