It's Smooth Sailing for Country Music as I'm Afloat with Fans!
All my new fans come from States or countries that are near the Great Lakes or Oceans.
My fans are a wonderful gift to cherish today on my birthday. 
My songs made fans as near as the Carolinas and as far away as Hong Kong.
I hope you'll play my music wherever you go. Please keep sharing my songs!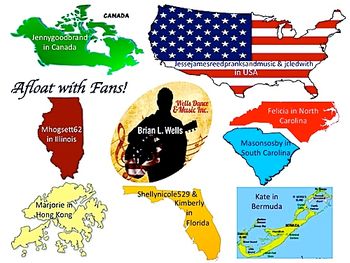 Special Thanks going to my new fans:
Masonsosby from South Carolina, Jessejamesreedpranksandmusic from USA, Felicia from North Carolina for "Brother How I Miss You"
Marjorie from Hong Kong, jcledwith from USA, Kate from Bermuda for "Hold Me Close While We Dance"
Mhogsett62 from Illinois for "If I Could Die a Hero"
Kimberly from Florida for "Everything's Gonna Be Alright"
jennygoodbrand from Canada for "Couch Talkin'"
shellynicole529 from Florida for "I'll Follow His Light"
This time "Brother How I Miss You" and "Hold Me Close While We Dance" were the fan favorites! Looks like we need hope and tenderness to make our lives better.

You can listen to my music any time on Jango Internet Radio, Google Play or SoundCloud.  The songs are also available on CDbaby, Amazon, iTunes and Rhapsody.