Celebrating with A Festival of Worldwide Fans 
Many of us are preparing for the holidays in December, especially Christmas, Hanukkah and Kwanzaa. Music is a part of the celebrations. Whether you are enjoying holiday songs or your favorite music, I hope you will take time to share these songs with your family and friends. 
My music fans keep growing around the world. This time I've added fans in Bosnia and Romania to my fans in the US and around the world. During this season of gratitude, I'm thankful to all my fans for listening and sharing my music.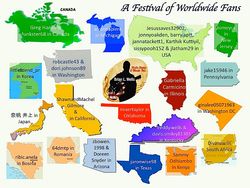 Special Thanks going to my new fans: 
Gabriella Carmicino from Chicago, IL, jake15946 from Philipsburg, PA for "Everything's Gonna Be Alright"

mixertaylor from Norman, OK, Greg Hanks from Canada, divanvw from Potchefstroom, South Africa, 奈帆井上 from Japan, arronpapierz from Holland, MI for "My Brothers and Me"

jesussaves32902 from USA, jonnyoakden from USA, barry.aptt from USA for "If I Could Die a Hero"

robcastle43 from Renton, WAfor "Brother How I Miss You"

jannatackett1 from USA, ribic.anela from Sarajevo, Bosnia, funkster68 from Humboldt, Canada, freddy.wells from Brandenburg, KYfor "Hold Me Close While We Dance"

64dmtp from Romania, ginalee05071963 from Washington, DC for "I'll Follow His Light"

tomeyca from Vineland, NJ, Karthik Kuttiyil from USA, littlefriend_pr from Yongsan, Korea, Republic, jaronwise98 from Wills Point, TX, zbowen.1998 from Flagstaff, AZfor "Couch Talkin"

sissypooh152 from USA, Doreen Snyder from Tucson, AZ, dori.johnson89 from Redmond, WA, ShawnandMachel Gilmore from Riverside, CA for "GPS Directions to My Heart"
davis.smiley81301 from Clarkson, KY, jlatham29 from USAfor "Cunning, Baffling, Powerful"  
Sammy Odhiambo from Kenya for   "That Place I Call My Home" 
For the holiday season, these four songs were fan favorites: "My Brothers & Me," "Couch Talkin,'" "GPS Directions to My Heart" and "Hold Me Close While We Dance."  Family stories and love dominate our focus as we gather to celebrate, share stories, sing and dance. I hope these holidays find you healthy and happy.

Remember, that you can listen to my music any time on Jango Internet Radio, Google Play or SoundCloud.  The songs are also available on CDbaby, Amazon, iTunes and Rhapsody. My music can also be found on Spotify. Check out your favorites and thank you for sharing them.